Hindsight is a wonderful thing. In my last post I had a good whinge about my epic brewday fail. It is true it was a massive failure that meant I got no Zen. However I have some lightbulbs on the drive. Ideas for new tweaks on saisons, beers that I'll brew in the coming months, and a bit about getting some beer made that I can actually sell. I've had some awesome conversations about this recently, everything from finding people who will actually talk to me about doing beer on a contract basis, people I think can make good beer, and do it in volumes I can handle and where I can play in the brew house. Also my folks are OK with the idea of me pinching part of the farm workshop with a small brew house (a nano brewery).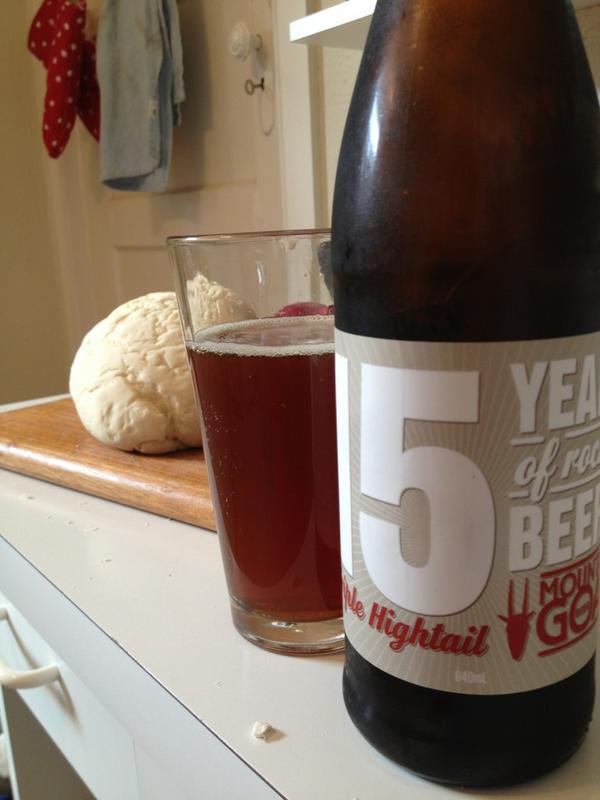 It's still all just talk, but its good talk. Now I need to look more into the boring paperwork side of things. This is probably something that the guys at Mountain Goat did 15 years ago. Those lucky (read hard-working) bastards have made it to 15 years in the brewing industry. They are the Sierra Nevada of the Australian brewing industry. I don't love all their beers, don't get me started on the Steam Ale, but a their stout and a bunch of their one offs are great, as is the original Hightail Ale. These guys are the You Am I of the Australian beer scene, without them we wouldn't have breweries like Moondog, Feral or even Little Creatures.
Trailblazers and trendsetters.
Anyway to their beer that I'm drinking while I'm contemplating the mountain of paper work that lies in front of me – Mountain Goat Triple Hightail. It's a bigger version of its little bro, it has the same chewy flavor but its kind of sweeter. That might be due to the bumped up booze content. The beer has a definite belgo feel to it, again I think it's the chewy boozy thing. I like it. After drinking Hightail for a few years this is a nice change, a boozy less hoppy version. Actually I can't work out how many years I've been drinking Hightail for, probably 10 at least? its just one of those always there beers.
Anyway cheers for 15 years of beers MG! good luck for the next 15. For now I'll be happy if I can get something to a 1st birthday, and thanks to my dud brew day I maybe have an idea of an 1st b'day beer 🙂
Cheers D