Firstly let me start with "ALL HAIL KING RICHARD!", I'll get to that in a bit. Na bugger it, I'll cut to the chase.
Following a work trip to Canberra and a visit (OK 2) to the Wig and Pen pub I am inspired to do more in the way of brewing sour beers. Richard Watkins is making what I think are Australia's best sour beers in a very unassuming pub, that from the outside has almost a shopping centre feel to it. The beers though. WOW.
I tried a few of the beers, a pale ale (hoppy and malty, well worth trying), a steam beer (I liked it but don't really know the style), something through a randall (??) and an english IPA on hand pump (probably the best beer I've had on hand pump ever), and a stout that was roasty, chocolatey, coffee, smooth goodness (it was stout day after all). And then I tried the sours.
Thanks to the world of twitter I was able (with the assistance of some mates – Dan thanks) to actually ask the brewer (whom I have never met in real life) what should I drink. The message was Sour Blonde then Armpit then LPG! Enjoy.
Sour Blonde – an under 5% ABV bright blonde beer with a complex yet under powering sourness that make this the ultimate gateway beer for getting people onto sour beers. BUT this is still a beer that you could happily drink all day and still keep finding new things in. Awesome beer, if this was my local, this would be my 1st pint every time.
Bobs Armpit – this was a bigger and more complex beer (7% I think?) great drop, became more excellent with each sip as it warmed.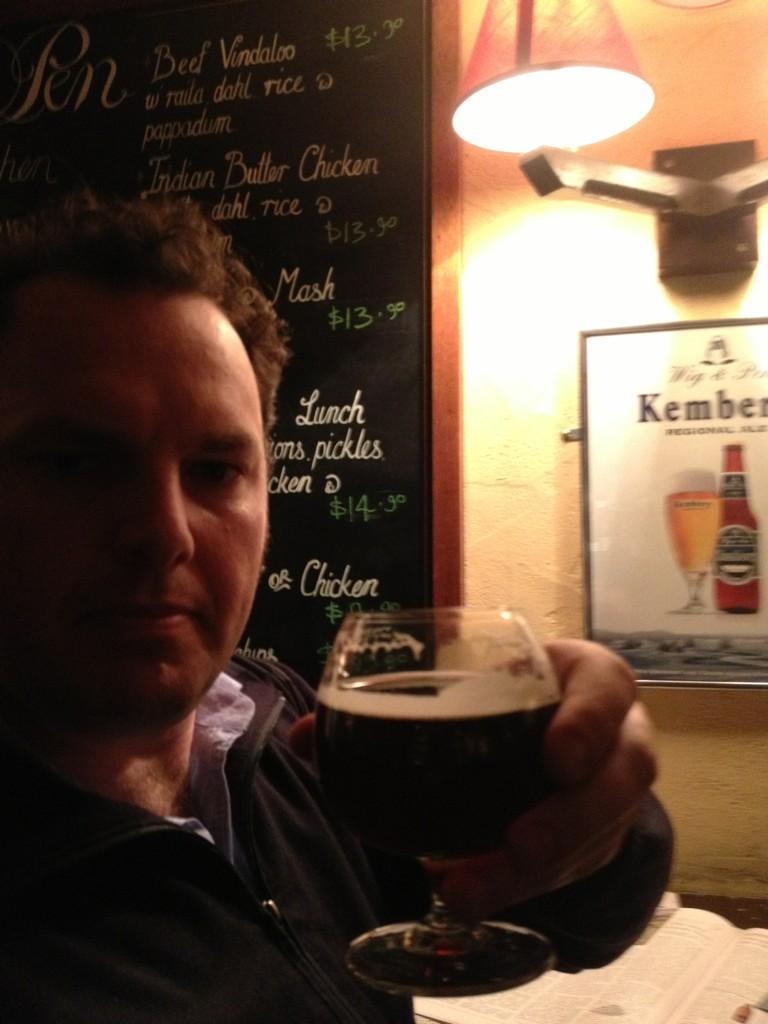 LPG – I think this was kind of Belgian golden strong with bugs (again 7%? or I could be mixing it up with the Bobs armpit) what I do remember about this beer was the aroma, it smelled fantastic. People who tell you sour beers smell like horse blankets, well perhaps they havent tried this beer. It was amazing.  The other amazing bit was that thanks to the power of twitter and the generosity of the brewer who was in Perth at the time I had it shouted for me. Cheers for the beer Richard, most generous.
The beers were big, and took their toll on me a little, I should have taken notes, but that would have been a mood killer. Great beers and I'll be back, perhaps for a cellar tour if the hosts generosity permits. I want to see these barrels!
Also its worth noting that the staff at the Wig and Pen were excellent, the barman I got talking to (Ian I think) was great, new his beer, had time to talk to the punters and was a great ambassador for the beers. So when in Canberra I now drink at the Wig and Pen, do yourselves a favor and do the same.
Drinking Richards sour beers has reignited my desire to make some of these beers myself. Well more to master them. In the past 10 months or so I've had a tiny crack at making some sour beers. Sour beers seems to be the general designation that has been given to any beer that isn't 100% clean. However the term sour seems to cover a whole world of flavor. Think sour and you go straight to a vinegar (yep even they have a massive range of flavors) or lemon. It's not that simple.
In beer depending on what you start off with, what bugs (this is my generic term for non traditional brewing yeast) and where and how you age it.
My experiments to date are;
1. Buggy Harvest Ale
Amount
Item
Type
% or IBU
2.25 kg
Pilsner (2 Row) Ger (3.9 EBC)
Grain
43.52 %
1.25 kg
Pale Malt (2 Row) US (3.9 EBC)
Grain
24.18 %
0.50 kg
Barley, Raw (3.9 EBC)
Grain
9.67 %
0.50 kg
Wheat, Torrified (3.3 EBC)
Grain
9.67 %
0.50 kg
White Wheat Malt (4.7 EBC)
Grain
9.67 %
0.15 kg
Caramel/Crystal Malt – 80L (157.6 EBC)
Grain
2.90 %
0.02 kg
Black (Patent) Malt (985.0 EBC)
Grain
0.39 %
25.00 gm
Crystal [4.30 %] (60 min)
Hops
14.6 IBU
25.00 gm
Crystal [4.30 %] (30 min)
Hops
7.4 IBU
20.00 gm
Crystal [4.30 %] (1 min)
Hops
1.9 IBU
1 Pkgs
Wyeast 3789-PC Trapppist Blend
Yeast-Wheat
I made this beer back just after Christmas 2011 and its been ageing in a demijohns ever since, when I tasted it months ago it had a hint of Orval about it. The OG was 1.045. The inspiration for this beer was a Brewing Network CYBI show on a Jolly Pumpkin beer. To be honest I havent really done much with this beer and it's probably oxidised. I really need to taste it and get it in a bottle, but dealing with these dirty beers is just a little intimidating. The word "unclean!" springs to mind.
2. Buggy wheat with grapes
| | | | |
| --- | --- | --- | --- |
| 5.00 kg | Pilsner (2 Row) Ger (3.9 EBC) | Grain | 50.51 % |
| 2.00 kg | Wheat Malt, Ger (3.9 EBC) | Grain | 20.20 % |
| 2.00 kg | Wheat, Torrified (3.3 EBC) | Grain | 20.20 % |
| 0.40 kg | Caramel/Crystal Malt – 30L (59.1 EBC) | Grain | 4.04 % |
| 0.20 kg | Acid Malt (5.9 EBC) | Grain | 2.02 % |
| | | | |
| | | | |
| 40.00 gm | Warrior [15.00 %] (50 min) (First Wort Hop) | Hops | 48.6 IBU |
| 10.00 gm | Nelson Savin [11.30 %] (50 min) (First Wort Hop) | Hops | 9.2 IBU |
| | | | |
| 20.00 gm | Cascade [7.30 %] (10 min) | Hops | 2.3 IBU |
| 30.00 gm | Nelson Savin [11.30 %] (10 min) | Hops | 5.3 IBU |
Wyeast 3789-PC Trapppist Blend
wyeast brettanomyces claussenii
1.5 kg of unwashed red grapes hand squashed into the fermenter
This beer was the result of wanting to make 2 beers at once, a hoppy seasonable IPA type wheat beer, and something more buggy and experimental. The OG was 1.050. I split the batch as outlined above with about 12l of the 37l total going to the sour fermenter, and the rest getting a shitload more hops thrown at it in the hopback and dryhop, it also got the rather tame 1056 yeast (more on this beer when I taste it).
Here are some photos from the brew day
So what has happened with the buggy grape? its tasting sour, has a nice purple hue from the grapes and is mostly sitting in a demijohns getting a little more time before bottling(its full so there shouldnt be an oxidation issue). Not really sure what I'll do with it at bottling? should I carbonate it, or leave it flat? don't know. As an experiment I have got 3 PET bottles, 2 primed with sugar, one left alone. I don't want bottle bombs and I'm a little hesitant about the bret causing me issues down the track. Will see how it goes.
So whats next? planning on getting some barrels. Dan the brewer, this plan it very loose so far. I might also just leave a batch out coolship style at the farm. Not sure what that will bring. And there will be a gosse.
Plenty to do and brew.
Thanks again Richard, you've reignited the sour bug started by Cantillon and Orval.
Cheers D